We offer a full range of landscaping services. So whether you're looking for a garden update or a brand new backyard oasis, our energetic team will design, install, and even maintain your lawn and garden, allowing you to live your outdoor dream. Our services include garden clean-up, pruning, seeding, sodding, adding plants, flowers, trees and shrubs, and building patios, firepits, sidewalks, retaining walls, ponds, waterfalls, fountains, and bubbling rocks.
We're all about transforming our customers' yards into more enjoyable, more functional spaces that enhance their outdoor living experience. Sometimes it's a temporary vignette for a special occasion, and other times it's a full scale overhaul. But every time, we take care to create stunning transformations. Check out our before and after images from previous projects for a sampling of our work to date.
Lisa graduated from Fanshawe College's Landscape Design Program in 1998 and has 25 years of experience, working for other businesses in the many different sectors of the industry before starting Live Landscape in 2008.
Building meaningful and long-lasting relationships with her clients is paramount for Lisa, as it helps her build personal touches into projects.
Live Landscape is the result of her passion for landscape design and installation coupled with a love of being outdoors and the pursuit of excellence through continuous improvement.
Live Landscape is a company focused on creating functional outdoor spaces that not only satisfy, but delight our clients. Based in Dublin, Ontario, our company got its start in 2008, and now provides professional landscaping services to residents and businesses of Huron and Perth Counties.
We strive to provide the highest standard of work for each and every client through attention to detail, quality workmanship, and a desire to please. With every project, we take the time to get to know our client so we can provide unique solutions to their landscaping needs, enhancing their use and enjoyment of their outdoor space for years to come.
Many of our clients are long-term customers, asking us to maintain their outdoor living space on an ongoing basis to ensure it's done regularly and done right.
Live Landscape offers a full range of Softscaping, hardscaping, and pond and water services. We also sell related products including mulch, stone, and landscape edging. So whether you are looking for a garden update or a brand new backyard oasis, our energetic team will help you live your outdoor dream.
Our landscaping services go way beyond sodding, seeding, and planting a few trees. We offer a full range of landscape design and installation services, including:
Tree planting – individual, windbreaks, groupings, ornamentals
Pruning – shrubs, hedges, ornamental trees, fruit trees
Water features – ponds, waterfalls, and bubbling rocks
Hardscapes – patios, walkways, walls,
Softscapes – flowerbeds, native gardens, vegetable & herb gardens
Sodding & seeding – new lawns, overseeding, and repairs to existing turf
Maintenance – keeping things looking great, long-term
SOFTSCAPING
DESIGN & INSTALLATION
At the start of your project, Lisa will meet with you and walk the area or property you wish to transform. During that time, discussion might include:
Planting and Landscaping
The types of plants that suit you and your environment best.  All plants used in Live Landscape projects are sourced from Ontario nurseries and are guaranteed for an entire year after installation.
Garden Cleanups
Whether it is spring, summer or fall, we'll help you rejuvenate your gardens by removing dead foliage from the previous year, overgrown shrubs and unwanted weeds. We can edge gardens for a cleaner appearance and add mulch to control new weed growth and help your soil maintain moisture.
Pruning and Maintenance
We will keep your property looking fresh and well-groomed with either regular scheduled visits or for a one-time trimming of your overgrown shrubbery.
Turf
Whether your lawn is damaged or just needs some TLC, Live Landscape can restore or replace your lawn with sod or seed.
Windbreaks and Tree Lines
The right trees and shrubs planted in the right location can provide add privacy to your yard and shelter from the wind. We'll help you choose the right trees and/or shrubs to enhance your enjoyment of your outdoor living areas.
After discussing your landscaping goals, she'll create a digital rendering of the proposed design for your review and approval.
HARDSCAPING
DESIGN & INSTALLATION
Natural stone and concrete pavers are becoming increasingly popular materials in landscaping, as they can be used to create stunning patios, sidewalks, firepits and retaining walls to enhance the functionality and enjoyment of your outdoor living space.
POND & WATER FEATURE
DESIGN & INSTALLATION
The addition of a water feature can bring a whole new sensory experience to your garden.  A well placed pond, fountain, or bubbling rock can transform an ordinary backyard into a relaxing outdoor retreat with the restorative sound and hypnotizing movement of trickling water.   A fountainscape can also serve as a focal point in front yard, court yard or gathering area. 
Stop living
with

it and start living

in

it.
We sell a limited selection of products for your DIY landscaping projects that we also use in our own work. And you know we only use the best products to ensure a top-notch result and customer satisfaction. See products below and contact us to order.
Back in 2008, Lisa saw the environmental issue with using mulch in bags.  Even though it was convenient to transport and carry mulch in bags, bulk was the way Lisa saw less waste heading to the landfill.  She wanted to reduce the carbon footprint being made by single use plastics.
Live Landscape carries their # 1 seller of Shredded Pine Mulch (SPM).  Black is a very popular colour and can enhance the yellow and lime green colours of plants. 
We also have mulch in Rustic Red and Mocha. 
Our compost has many uses, Live Landscape uses it as a mulch on garden, it's a great product for people who want to mulch and amend their soil quickly.  It is recommended for the Gardeners who like to putter in the gardens.
Compost is also mixed with screened topsoil to added to raised gardens or to a garden that needs toping up. 
Stone dust
A Gravel
Pea Stone
River Rock
Beach Stone
Drainage Stone
Mason Sand
Field Stone
Mossy Rock
Armour Stone
PEAT MOSS
(Fibre moss in 5.5 cubic-ft bags)
GRASS SEED
(Sun-Shade Lateral Spread Mix)
PAVER & GARDEN
LANDSCAPE EDGING
Live Landscape is an official dealer of Sure-Foot's easy-to-install edging systems. We offer various types of paver and garden edging. Garden edging is available in two plastic and three aluminum options. Paver edging is available in two plastic and two aluminum options.
LANDSCAPE PROJECTS
BEFORE & AFTER
Here's a sampling of the transformations we've completed for our clients. Click and drag on the double-arrow slider to see the before and after images.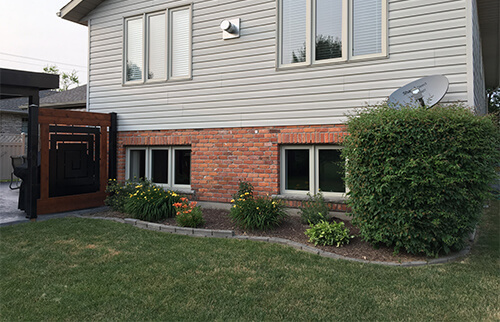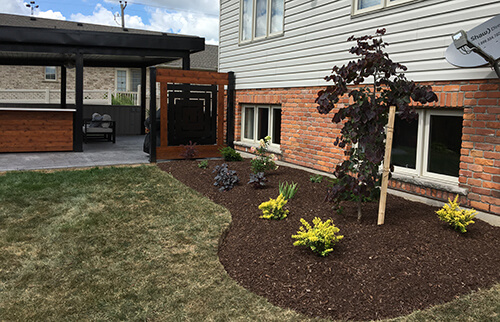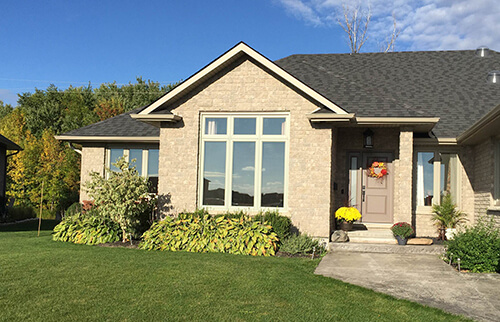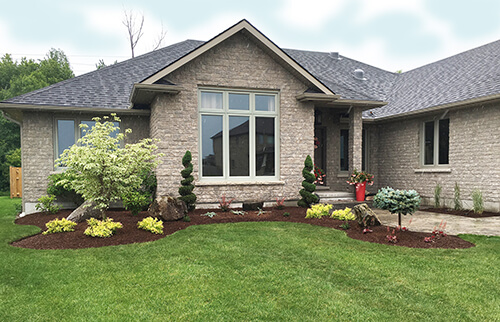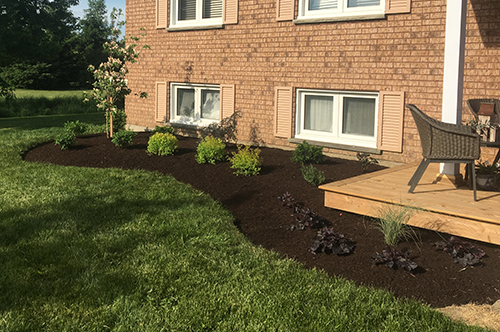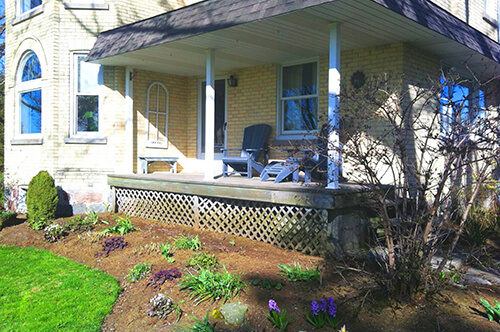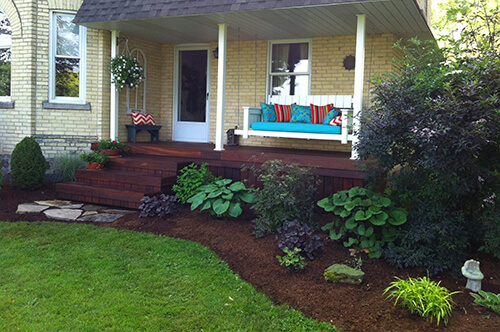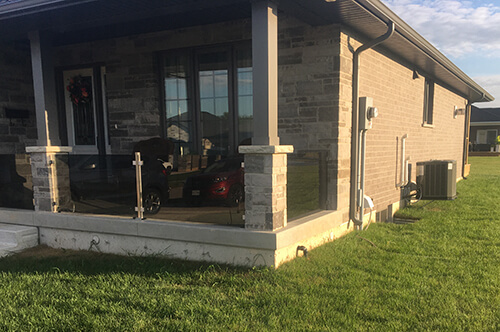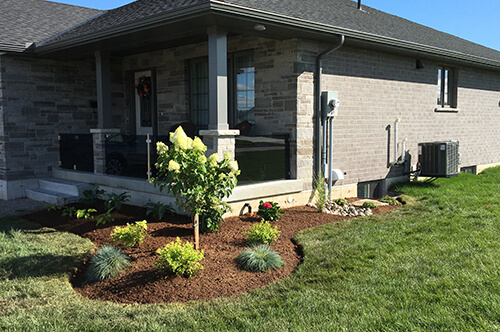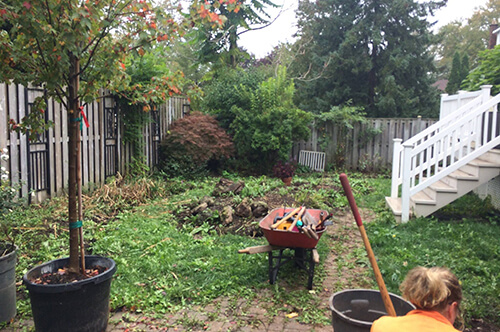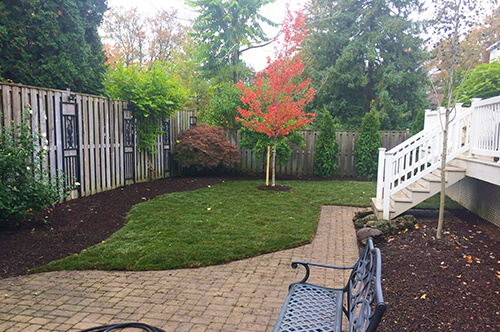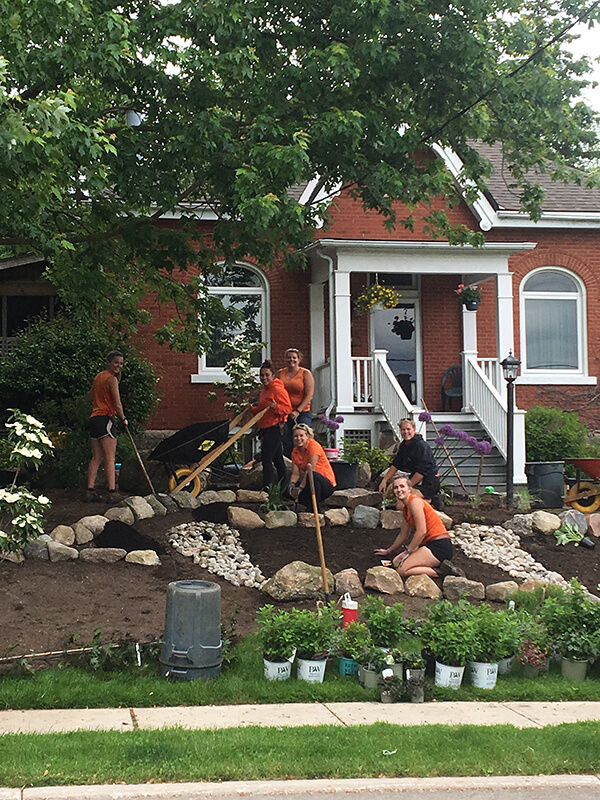 Live Landscape is always looking for crew members to help bring our client's landscaping goals to life. We are also pleased to be able to offer an apprenticeship program for an applicant enrolled in the Landscape Horticultural Technician Program at an accredited post-secondary institution. We also hire co-op students via high schools and colleges. Current openings are listed below.
Live Landscape is currently seeking candidates for the following positions:
If you are interested in working with Live Landscape but the position you're interested in is not listed above, please forward your resume with accompanying cover letter to lisa@livelandscape.ca.